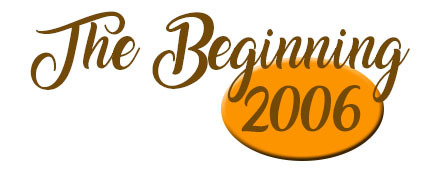 The Beginning............
In 2006 I started my company… .. The name Coloured Goodies (coloured gift) was born. I wanted to market greeting cards with coloured people characters. People with a different skin colour now finally had to be able to identify themselves. I started designing birth cards and wedding invitations. In addition, there were gradually more and more products with which everyone could identify In 2016 I get a lot of questions ...
So often I am asked why I have suddenly become so black aware / consious? I quickly answer with "I was already aware of it for a long time because that's how I was raised, but I learn more and more about my history, etc. every day, etc." emotions arise in me that I did not know before. In my case it is also often the case that I have to keep quiet about certain statements because you never know how this can be misinterpreted again.
Over the years I found out more and more and became more and more aware that my beautiful blackness was not being praised anywhere in society. My beautiful Dutch side was praised everywhere and this was simply not possible anymore…. This had to be done differently and I wanted to make a difference here and I shaped that in 2006.
CONSCIOUSLY .....Later in life From the moment I got several realizations I banned certain habits from my life. Various habits and moments that only made me happy in the past have now made way for new insights. I learn every day ..... But ... let it be clear that ... I have not left anyone ... I also don't boycott anyone as long as they have not harmed or hurt me. My opinion is still that EVERYONE can have their own opinion, but please let me also in my worth and know that I am still Ellen but with the wisdom that I now have a lease on. My wisdom doesn't have to be yours but it doesn't have to suffer from anger, hatred, annoyance, or what so ever .... Just RESPECT each other
Identification and Pride
In the conversations I have with people, I always clearly state that I am a PROUD child of 2 Cultures. I love my André Hazes (* dutch singer) and yes I can dance ballroom and I like going to the camping because I got all that in my upbringing. That was my luck, but of course I also received pieces from my Surinamese side, both from my father and my mother .... My mother, for example, wanted from an early age that I could identify with toys but unfortunately there was no more those moments not to find a dark doll for her double-blooded daughter. I was 9 years old and then she came proudly smiling broadly with a dark doll. My mother told me that I did not want that doll and that it hurt my mother a lot because she thought it was soooo important that I could recognize myself in a doll instead of a doll with a white skin color and straight hair. Fortunately this all worked out later, but because of this experience it started to brew at an older age and now that I am getting older I still hear certain statements from my white mother very clearly. She has always explained to us that we are special. We are beautiful as we are (my little brother and I). The children who called us names went to lie in the sun themselves to get our tan. And so my beautiful white mama taught us that we were beautiful and that if we wanted to achieve something we could always achieve it anytime, as long as we wanted and committed to it. These have always been the educational words of both my parents.
You can do anything… if you want to
The store
Since February 14, after having been on the market for a few years, I am now the proud owner of an incredibly cute little shop in Amsterdam north. A dream come true..
When Jetty Mathurin opened my store in a beautiful cultural way and spoke to me, she also said that I must not forget that I have written history. And yes… indeed… I became aware that I had made history. I had opened the very first black doll gift shop in the Netherlands. I was already proud, but that moment I took away a tear. Also, the idea that both of my parents would be so incredibly proud from above on the reach of something so great made me give the ugly cry. All my dreams All my intentions All my points I can now put all my criteria in my own shop. I can show what I stand for NOW. I can show what else is really needed in a multicultural society ... that C, Goodies is of added value in this society. I can make statements that everyone can identify with. I can bring change and diversity with my products
I create the wow effect !! Coloured Goodies sells products for everyone. My Dutch neighbor can now FINALLY buy a gift related to her Surinamese neighbor who has just given birth. All textile products with nice texts from various cultures, or that beautiful dark doll that is a feast for the eyes. Thanks to those who have always believed in C, Goodies, I now have my little shop… We are now open for 4 months and I can say (until now) that I have made the best choice ever. The overwhelming reactions are beyond description. People from all walks of life come by and buy something nice. Our black dolls stand with us as a core business and do it more than well. The handmade clothes that our beautiful dolls wear with nice Surinamese Antillean but also Arabic and Dutch texts are a feast for the eyes. It is a pleasure every day to see so many happy people in the store.
The Doll Test
In 2010 or 2011 I came across several videos that made my hair straighten. The tests of Dr Kenneth B. Clark and his wife Mami Clark had a lot of impact on me because these were situations that I wanted to change with C, Goodies. It was children who got the puppet tests. 2 dolls were placed in front of them and the children could choose from the dark doll and the white doll. The incredible thing was that all dark children chose the white doll. The dark (black doll) was seen as the naughty doll. It was said to be ugly and a crook. The dark doll was depicted MORE than negative in the image of these children. It was heartbreaking to see how these children all chose the white doll and already answered that this white doll is sweet and much more beautiful and has nicer hair etc etc… .. Coloured Goodies Tests When I had expanded my business myself and started selling even more black dolls in 2013, I immersed myself in this and got to work. I wrote to several schools because I also wanted to carry out a test like this, but with children from the Netherlands of course. Unfortunately, I never managed to get a school to do a doll test. I think they were afraid of the results, i dont know. Anecdotes In any case, I have to deal with different situations in my shop every day… .. even when I was still on the market with my dolls…. I can tell a lot of beautiful anecdotes, but also less beautiful anecdotes…. At the market I often asked children which doll they liked ... I then showed 2 different dolls ... the white or the black doll and now in our shop we still do this. Unfortunately it still happens too often that the dark children choose the white doll
It's a shame because awareness starts at home, I always say. It's not like a dark kid shouldn't have a white doll, but it's also not allowed to be the only thing they know, and in my view you can't start early enough to always say like my parents did that we are beautiful with our dark skin tone and my curly hair and my fuller lips etc etc… I am A gift from the most high
I have often done the doll test without filming it, but now I want to expand it by making a documentary about it because what happened here in the store is spectacular and also a worthy piece of history I really believe in. We experience such fun things and I have often shared beautiful photo collages of happy children with their doll via social media. Writing a book and making a Colored Goodies own POP and making a beautiful educational Documentary are still objectives that I would like to achieve and in addition to this objective, many more positive messages, anecdotes, stories etc etc. will result and that is all I have with COLORED GOODIES wants to achieve ........... Thanks to you all !!!
Nothing But Love ................... Ellen
https://www.youtube.com/watch?v=tkpUyB2xgTM
https://www.youtube.com/watch?v=QRZPw-9sJtQ
https://www.youtube.com/watch?v=4lcGi365-bg
https://www.youtube.com/watch?v=YOHbtM9463c
https://www.youtube.com/watch?v=FSdKy2q6pEY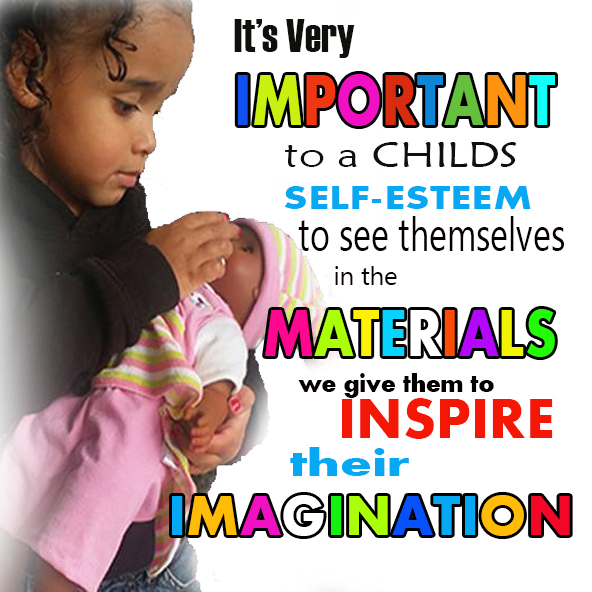 DUTCH LANGUAGE
Written at 10-05-2016
The beginning
In 2006 begon ik mijn bedrijf….. De naam Coloured Goodies (gekleurd cadeautje) werd geboren. Ik wilde wenskaarten op de markt brengen met gekleurde people personages. Mensen met een andere huidskleur moesten nu eindelijk zichzelf kunnen identificeren. Ik begon met het ontwerpen van geboortekaarten en trouwkaarten. Daarnaast kwamen er langzamerhand steeds meer producten waarmee een ieder zich kon identificeren
Anno 2016 krijg ik veel vragen …
Men vraagt me zo vaak waarom ik opeens zo black aware/consious ben geworden ?
Ik antwoord dan vrij snel met " Ik was me allang ervan bewust want zo ben ik opgevoed maar ik leer dagelijks meer en meer over o.a mijn geschiedenis etc etc. " De discussie of t onderwerp kan soms heel heftig aan de orde komen en heel soms komen er bij mij emoties naar boven die ik vroeger niet kende. In mijn geval is het ook vaak zo dat ik mijn mond moet houden met bepaalde uitspraken want je weet nooit hoe dit weer verkeerd geïnterpreteerd kan worden.
Ik kwam in de loop der jaren meer en meer erachter en kreeg meer en meer bewustwording dat mijn prachtige blackness nergens werd opgehemeld in de maatschappij. Mijn prachtige Hollandse kant werd overal opgehemeld en dit kon gewoon niet meer…. Dit moest anders en ik wilde hierin verschil brengen en dat heb ik in 2006 vorm gegeven.
BEWUST op latere leeftijd
Vanaf het moment dat ik diverse bewustwordingen kreeg heb ik bepaalde gewoontes uit mijn leven verbannen. Diverse gewoontes en momenten waar ik vroeger alleen maar blij van werd hebben nu plaatsgemaakt voor nieuwe inzichten. Ik leer dagelijks..... Maar... laat duidelijk zijn dat ...ik niemand heb verlaten … Ik boycot ook niemand zolang ze mij niets gedaan hebben of aandoen. Mijn mening is nog steeds dat IEDEREEN een eigen mening mag hebben maar laat mij aub ook in mijn waarde en weet dat ik nog steeds Ellen ben maar dan met de wijsheid die ik nu in pacht heb. Mijn wijsheid hoeft niet de jouwe te zijn maar dat hoeft nog niet te lijden naar boosheid, haat, ergenissen, or what so ever.... Just RESPECT each other
Identificering en Trots
In de gesprekken die ik met mensen heb geef ik ook altijd duidelijk aan dat ik een TROTS kind van 2 Culturen ben . Ik hou van mijn André Hazes en ja ik kan stijldansen en ga graag naar de camping want dat kreeg ik allemaal mee in mijn opvoeding. Dat is mijn geluk geweest maar uiteraard kreeg ik ook stukken van mijn Surinaamse kant mee, zowel van mijn vader als mijn moeder….Mijn moeder wilde bijv, vanaf jongs af aan dat ik mij kon identificeren in speelgoed maar helaas was er in haar leven op die momenten geen donkere pop te vinden voor haar dubbelbloed dochter. Ik was 9 jaar en toen kwam ze trots breed lachend met een donkere pop. Mijn moeder heeft mij verteld dat ik die pop niet wilde en dat het mijn moeder ontzettend veel pijn gedaan heeft want ze vond het zoooo belangrijk dat ik mezelf kon herkennen in een pop ipv een pop met een witte huidskleur en stijl haar. Gelukkig is dit later allemaal goed gekomen maar door deze ervaring is het bij mij op oudere leeftijd gaan broeien en nu ik steeds ouder word hoor ik bepaalde uitspraken van mijn witte moeder nog heel duidelijk. Ze heeft ons altijd uitgelegd dat we bijzonder zijn. We zijn mooi zoals we zijn (mijn broertje en ik) De kinderen die ons uitscholden gingen zelf in de zon liggen om onze kleur te krijgen. En zo leerde mijn mooie witte mama ons dat we prachtig waren en dat als we wat wilde bereiken wij dit altijd maar dan ook altijd konden bereiken, zolang we maar wilde en ons ervoor inzetten. Dit zijn de opvoedkundige woorden van beide mijn ouders altijd geweest Je kán alles…als je maar wilt
De winkel
Sinds 14 februari ben ik na een paar jaar op de markt gestaan te hebben nu de trotse eigenaresse van een ongelofelijk schattig kleine winkel in Amsterdam noord.
A dream come true
Toen Jetty Mathurin mijn winkel op een prachtige culturele wijze opende en mij toesprak zei ze ook dat ik niet moet vergeten dat ik geschiedenis geschreven heb. En ja…inderdaad … Ik werd me ervan bewust dat ik geschiedenis geschreven had. Ik had de aller eerste black doll gift shop geopend in Nederland. Ik was al trots maar dat moment pikte ik toch een traantje weg hoor. Ook het idee dat mijn beide ouders vanaf boven zo ongelofelijk trots zouden zijn op het bereik van zoiets groots deed mij de ugly cry geven.
Al mijn dromen
Al mijn bedoelingen
Al mijn punten
Al mijn criteria 's kan ik nu kwijt in mijn eigen winkeltje. Ik kan Nú GOED laten zien waar ik voor sta. Ik kan laten zien wat echt nog meer nodig is in een multiculturele samenleving... dat C,Goodies van toegevoegde waarde is in deze maatschappij.
Ik kan statements maken waar een ieder zich in kan herkennen.
Ik kan verandering brengen en diversiteit brengen met m'n producten.
Ik creëer het wow effect !! Coloured Goodies verkoopt producten voor iedereen. Mijn Nederlandse buurvrouw kan nu EINDELIJK gerelateerd een cadeautje kopen voor haar Surinaamse buurvrouw die net bevallen is. Allemaal textiel producten met leuke teksten van diverse culturen , of juist die prachtige donkere pop die een lust voor het oog is.
Dankzij hén die altijd geloofd hebben in C,Goodies heb ik nu mijn winkeltje…We zijn nu 4 maandjes open en ik mag zeggen (tot nu) dat ik de beste keus ooit gemaakt heb. De overweldigende reacties zijn met geen pen te beschrijven. Mensen van allerlei bevolkingsgroepen komen langs en kopen iets leuks. Onze black dolls staan bij ons als Corebusiness en doen het meer dan goed. De handgemaakte kleertjes die onze prachtige poppen dragen met leuke Surinaamse Antilliaanse maar ook Arabische en Nederlandse teksten zijn een lust voor het oog. Het is elke dag een genot om zoveel happy people te mogen zien in de winkel.
The Doll Test
In 2010 of 2011 kwam ik diverse filmpjes tegen die mijn haren rechtop deden gaan. De testen van Dr Kenneth B. Clark en zijn vrouw Mami Clark hadden veel impact op mij want dit waren situaties waar ik met C,Goodies verandering in wilde gaan brengen.
Het waren kindjes die de poppentesten kregen. Er werden 2 poppen voor hun neergelegd en de kindjes mochten kiezen uit de donkere pop en de witte pop. Het ongelofelijke was dat alle donkere kindjes kozen voor de witte pop. De donkere (black doll) werd gezien als de stoute pop Er werd gezegd dat deze lelijk was en een boef was. De donkere pop werd MÉÉR dan negatief afgeschilderd in het beeld van deze kindjes. Het was hartverscheurend om te zien hoe deze kinderen allemaal kozen voor de witte pop en dan ook al antwoord gaven dat deze witte pop lief is en veel mooier is en mooiere haren heeft etc etc…..
Coloured Goodies Testjes
Toen ik zelf verder was uitgebreid met mijn business en in 2013 nog meer black dolls ging verkopen heb ik me hierin verdiept en ging aan de slag. Ik heb meerdere scholen aangeschreven omdat ik graag ook een test als deze wilde uitvoeren maar dan met kindjes uit Nederland uiteraard. Helaas is het mij nooit gelukt om een school zover te krijgen dat ik een dolltest kon doen. Ik denk dat ze bang waren voor de resultaten, i dont know.
Anekdotes
Iniedergeval heb ik dagelijks in mijn winkel te maken verschillende situaties….. ook toen ik nog op de markt stond met mijn dolls …. Ontzettend veel mooie anekdotes kan ik vertellen maar ook minder mooiere anekdotes….
Op de markt vroeg ik vaak aan kindjes welke pop ze leuk vonden … Ik liet dan 2 verschillende poppen zien… de witte of de zwarte pop en nu in onze winkel doen we dit ook nog steeds. Helaas gebeurd het nog té vaak dat de donkere kindjes kiezen voor de witte poppen.
It starts at Home !!
Het is jammer want bewustwording begint thuis zeg ik altijd. Het is niet zo dat een donker kind geen witte pop mag hebben maar het mag ook niet zo zijn dat dit het enige is dat ze kennen, en in mijn ogen kun je er niet vroeg genoeg mee beginnen om zoals mijn ouders deden altijd te laten weten dat we mooi zijn met onze donkere huidskleur en mijn kroesharen en mijn vollere lippen etc etc … A gift from the most high
The dolltest heb ik vaak gedaan zonder het te filmen maar ik wil het nu gaan uitbreiden door er een documentaire over te gaan maken want wat er hier in de winkel gebeurd is spectaculair en ook een waardig stukje geschiedenis daar geloof ik echt in.
We maken zulke leuke dingen mee en ik heb al vaker via social media prachtige foto collages gedeeld van blije kindjes met hun pop. Een boek schrijven en een Coloured Goodies eigen POP maken en een prachtige leerzame Documentaire maken zijn nog doelstellingen die ik graag zou willen behalen en naast deze doelstelling zullen er nog véél meer positive boodschappen anekdotes verhalen enz enz voortvloeien en dat is alles wat ik met COLOURED GOODIES wil bereiken ........... Thanks to you all !!!
SoSoLobi Ellen,
Linken met diverse doll test all over the world
https://www.youtube.com/watch?v=tkpUyB2xgTM
https://www.youtube.com/watch?v=QRZPw-9sJtQ
https://www.youtube.com/watch?v=4lcGi365-bg
https://www.youtube.com/watch?v=YOHbtM9463c
https://www.youtube.com/watch?v=FSdKy2q6pEY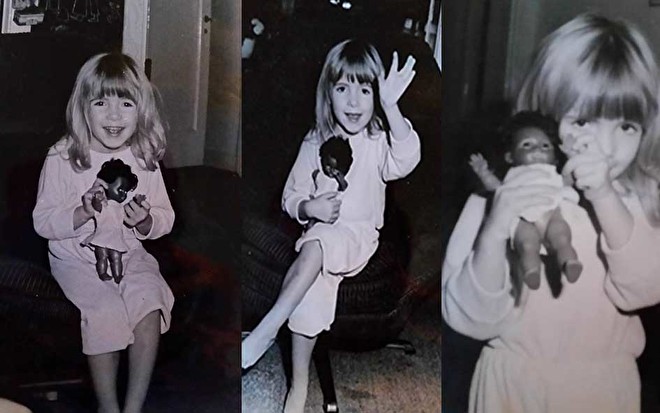 foto : My Friend Dunja Ullrich with her black doll in 1970